stone/nogne-o/jolly pumpkin have announced their first collaboration and very limited edition season release, the
Special Holiday Ale
. too bad FL isn't one of the states getting some of the stash ;_;
got to dvd 5 of speed grapher and it's pooched. now i gotta dig through my bag of receipts to find my receipt from AWA. now i gotta remember who/which table i bought it at. first i thought i got it from the FUNi table, but now i think maybe i didn't. this is going to be one big pain in my butt. if i can't find the receipt, i have a feeling it is going to be a battle with FUNi since their response so far has been less then stellar in terms of customer service.
Broccoli USA
is closing their business. gee, color me not surprised ~rolls eyes~
be afraid, be very very afraid
.
i do NOT want a
remake
of Robotech, or even Macross for that matter. can't they just leave well enough alone and let the classics lie in rest in their kingdom of cinema awesomeness. really. instead of a Robotech theatrical feature, i'd love to see Macross: DYRL get a license and a properly subbed dvd release.
Haruhiko Mikimoto
, the original character designer for Macross will be back with pen and paper in hand to personally head the tentatively scheduled and planned new Macross manga. w00t!!! :D
tues anime dvd releases 11/25/08:
11-25-2008 Ah! My Goddess - Season 2: Complete Collection
11-25-2008 Area 88 OVA
**the original and still the best, if you haven't seen the Area 88 OVA yet, you need to. this is a classic and i really wish the manga had gotten a proper and complete translation. excellent sociological and pyschological study on war and the effects it has on a person
11-25-2008 Beast King GoLion Vol.
#3
**YES!!!!!!!!!!!!!!!!!!!!!!!!!!!!!!!!!!!
!!!!!!!!!!!!!!!!!!
11-25-2008 Bubblegum Crisis - Tokyo 2040: Complete Collection (2008 Edition)
**yes!!! a chance to rebuy this series which got lost in one of my more recent moves
11-25-2008 Case Closed: Season 3 Collection
**when i finish my YYH boxset season collections, i'll delve into the enjoyable bottomless pit that is Meitante Conan. i think they are up to the 500s in episode count in japan right now
11-25-2008 Darker than Black Vol.
#1
(also w/box)
11-25-2008 Guy: Double Target
**OMG. old school cheesy macho testasterone crap. i might have to get this just for that. thankfully, if i do it is reasonably priced.
11-25-2008 Happy Lesson: Complete Collection (2008 Edition)
11-25-2008 Karin Vol.
#6
11-25-2008 Naruto Vol.
#30
11-25-2008 Night Shift Nurses: Ren Nanase
11-25-2008 Phoenix Collection
11-25-2008 Pumpkin Scissors: Complete Collection, Part 1
11-25-2008 Pumpkin Scissors: Complete Collection, Part 2
**i love how anime companies will sometimes release a series in 2 split boxsets which pretty much eliminates the savings part of it. that aside, Pumpkin Scissors is an excellent anime and i will definitely be getting it
11-25-2008 Sasami: Season 2 Collection
11-25-2008 Shonen Onmyouji Vol.
#4
11-25-2008 Tales of Phantasia
**i think i want this, but i'll have to refresh my memory...
11-25-2008 Toward the Terra Movie
**i have waited many years for this classic sci-fi space opera movie to get another US release and finally, she WILL be mine
11-28-2008 Peach Girl: Complete Collection (Viridian)
some interesting nibbles from will smith about his current wish/project to bring
Oldboy
to american cinema. i am pleased to hear he is looking to the original manga for inspiration.
the newest pics of the beer bumper sticker pimping of the back of my car: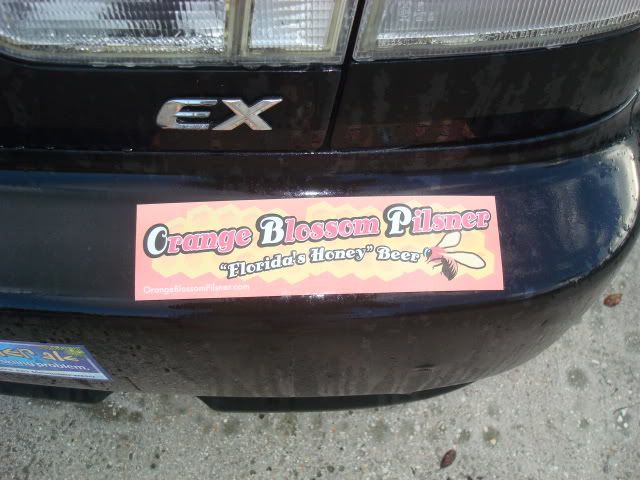 but then again, sitting for 4-5 hours in a panera chair and working on my laptop will do that. definitely past time for a beer. after writing my beer tasting email for work, i am thirsting for a young's oatmeal stout so i shall have to partake of that later. in the while, tis time for a little update to the regular generic homepage. that's not to say it has become of less importance these days, but when playing massive catch-up with my beer reviews and trying to get to a sustainable level on toby's so that i can start working on the wine...well, it takes a bit of time :P
Current Mood:

lazy